Hamburg was one of my favorite German cities because it reminded me so much of Florence, Italy. It was so spacious but also bustling at the same time. You didn't feel crowded but there was lots to do. What's spectacular about Hamburg is its architecture; they have the old (warehouse district) and the new (HafenCity) right next to each other.
What to Do | What to Eat | Where to Stay | Transportation | Resources | Map
What to Do
When I first saw the warehouse district, I was blown away by it's historical beauty and charm. Literally warehouse city,  Speicherstadt is an UNESCO World Heritage Site and the world's largest complex of warehouses. The district built into the Elbe river between 1883 and the late 1920s, on thousands of oak poles, is comprised of neo-gothic brick architecture and a network of streets, canals, and bridges.
Miniatur Wunderland is the largest model railway system in the world and one of the popular tourist attractions in Germany. It's a miniaturized version of many different countries, human activities, famous cities and buildings, a working airport, multiple harbors with cruise ships, all made with detail. Each inhabitant is unique in their design and activity; I love how it's a family attraction but they hide a lot of very raunchy stuff for the adults. Definitely check out their intro video on the homepage of their website.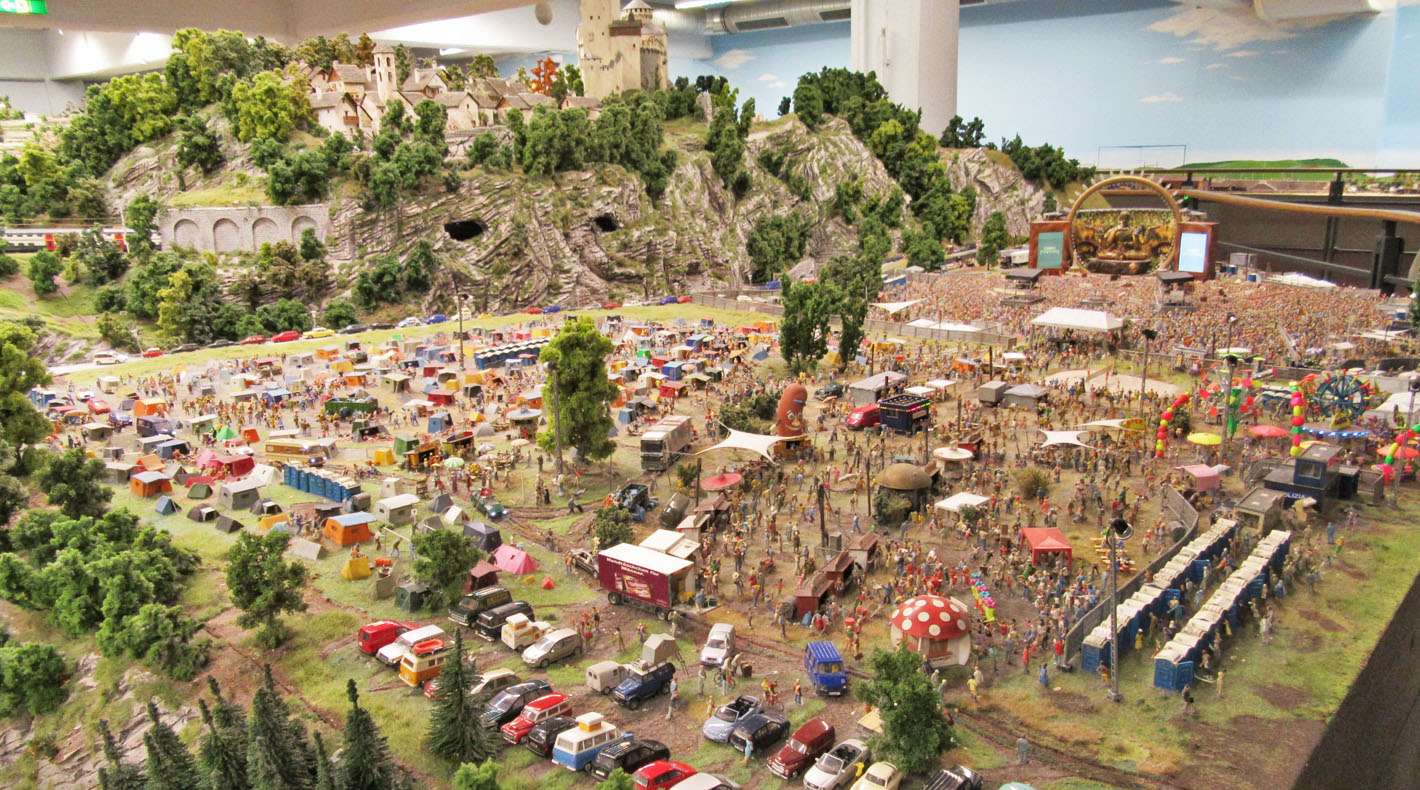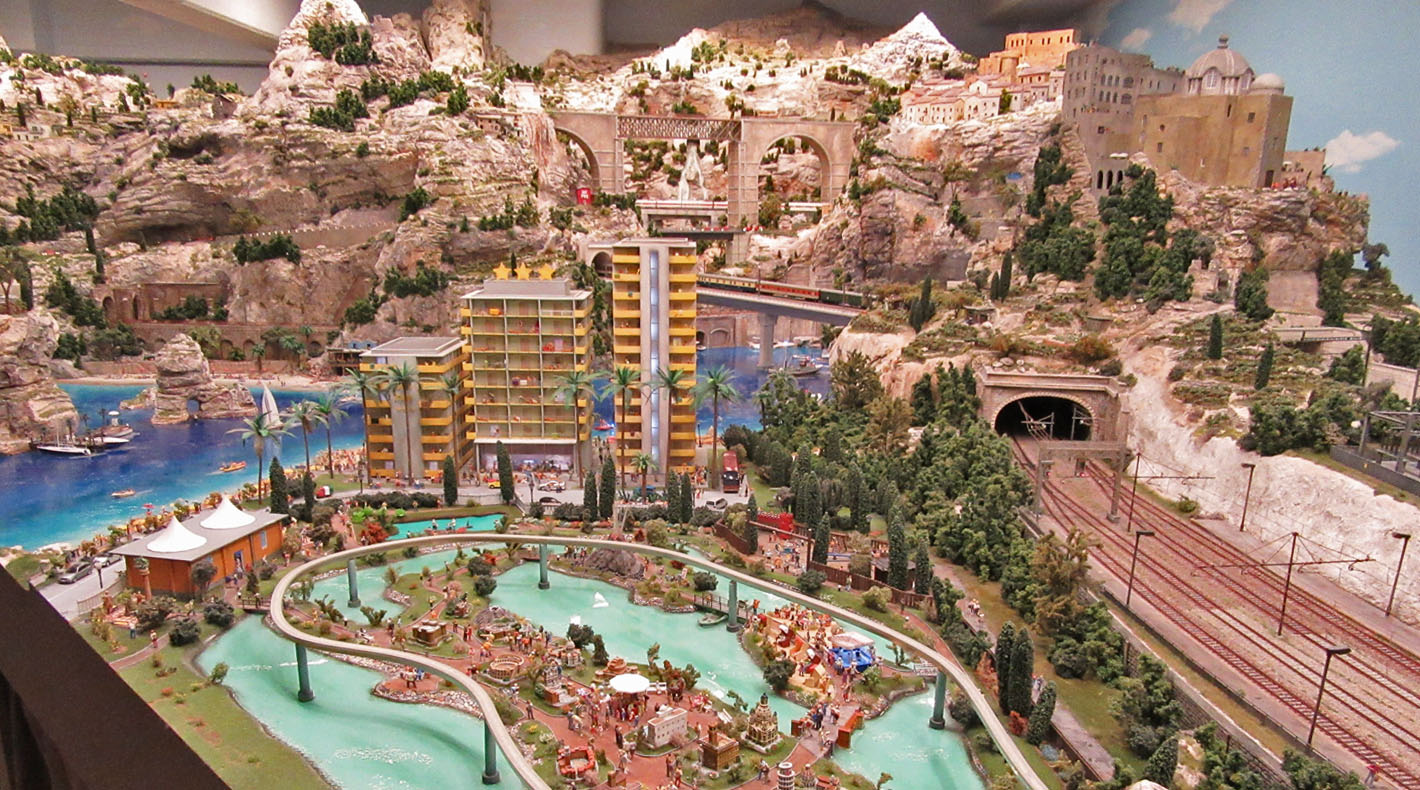 3. Bike tour
Doing bike tours in major European cities is probably always a good idea when the weather is right. Europe is so bike-friendly. Definitely look up some Hamburg bike tours.
Right next to the warehouse district is the neighboring HafenCity that filled with Hamburg's modern steel-and-glass constructions. Harborside HafenCity is known for the landmark Elbphilharmonie Hamburg concert hall and currently Europe's largest inner-city development project. The project is about designing cutting-edge, modern living spaces and is already setting new standards for both workplace and residential design, culture and leisure, tourism, and retail facilities. Built to consider ecological sustainability and urbanity, it is trying to be the epitome of what next generation urban cities be like.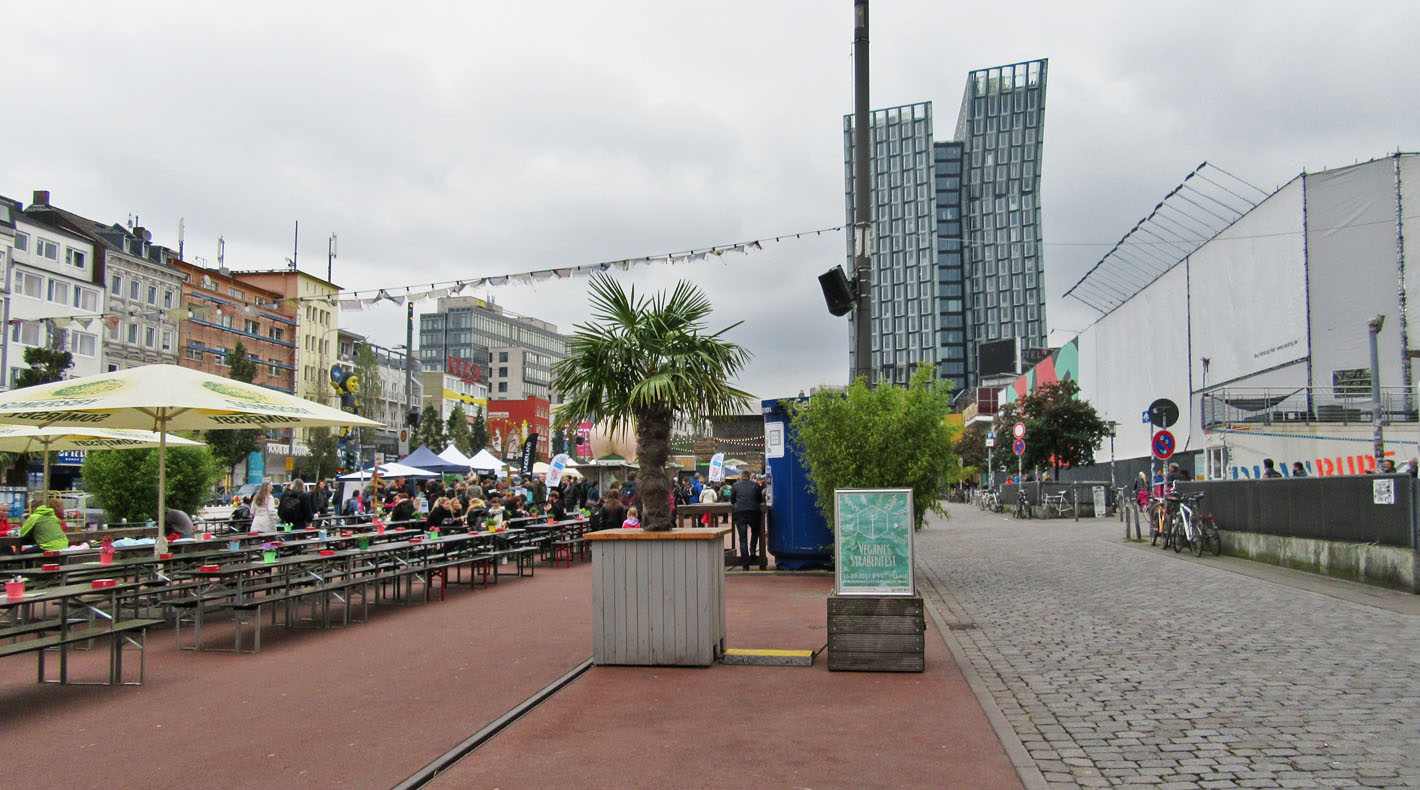 The Reeperbahn is a street filled with adult entertainment in Hamburg's St. Pauli district; it's famous for being the center of nightlife and a red-light district. It used to be where all the sailors would go spend their hard earned money after living on the seas for long periods of time.
A really big and famous art museum. We were art museum'ed out so we skipped. Founded in 1850, the Hamburg Kunsthalle is one of the largest museums in the country.
The Heinrich-Hertz-Turm, a landmark radio telecommunication tower, was built between 1965–1968 for the former Deutsche Bundespost (German Federal Post and Telecommunications Agency). As Hamburg's tallest structure, it's 279.2 m (916 ft) tall and used to have a two-story observation (lower floor) and restaurant (upper floor) platform; both became closed due to asbestos and not meeting other safety regulations. The tower is named after the Hamburg-born German physicist Heinrich Hertz.
Constructed from 1886 to 1897, the Hamburg Rathaus is located in the Altstadt quarter in the city center, at the Rathausmarkt square, and near the lake Binnenalster and the central station.
| | |
| --- | --- |
| Rathaus | Across from Rathaus |
This memorial is a former main church of Hamburg that was destroyed during the 1933-1945 air raids. Today, the ruin is a place for remembering the victims of war and tyranny. It's still the highest church tower in the city and going up its speedy, glass-walled panorama elevator takes you to a height of 76 meters. Down below in the cellar, there is a museum dedicated to remembering the destruction of Hamburg in the Second World War. Admission for the viewing point (with museum admission included) is a cheap 5 euros per adult. I highly recommend both attractions.
| | |
| --- | --- |
| St. Nikolai | View from St. Nikolai |

Just a single 1.5 hour train ride from Hamburg to Schwerin gets you to a 20 min walk from Schwerin castle. It's a beautiful castle next to a luscious park and is not full of tourists. I'm so glad I went to multiple castles in Germany, especially this one with such a lovely garden. Also, there is a museum in the garden as well.
From Hamburg to Schwerin Castle, it is less than 2 hours by car or by train. Leave the train at Schwerin Mitte or Schwerin Central Station (Schwerin hbf – Hauptbahnhof). From there it is an easy 20 Minutes walk to the castle. You can also take a taxi from Schwerin Central Station.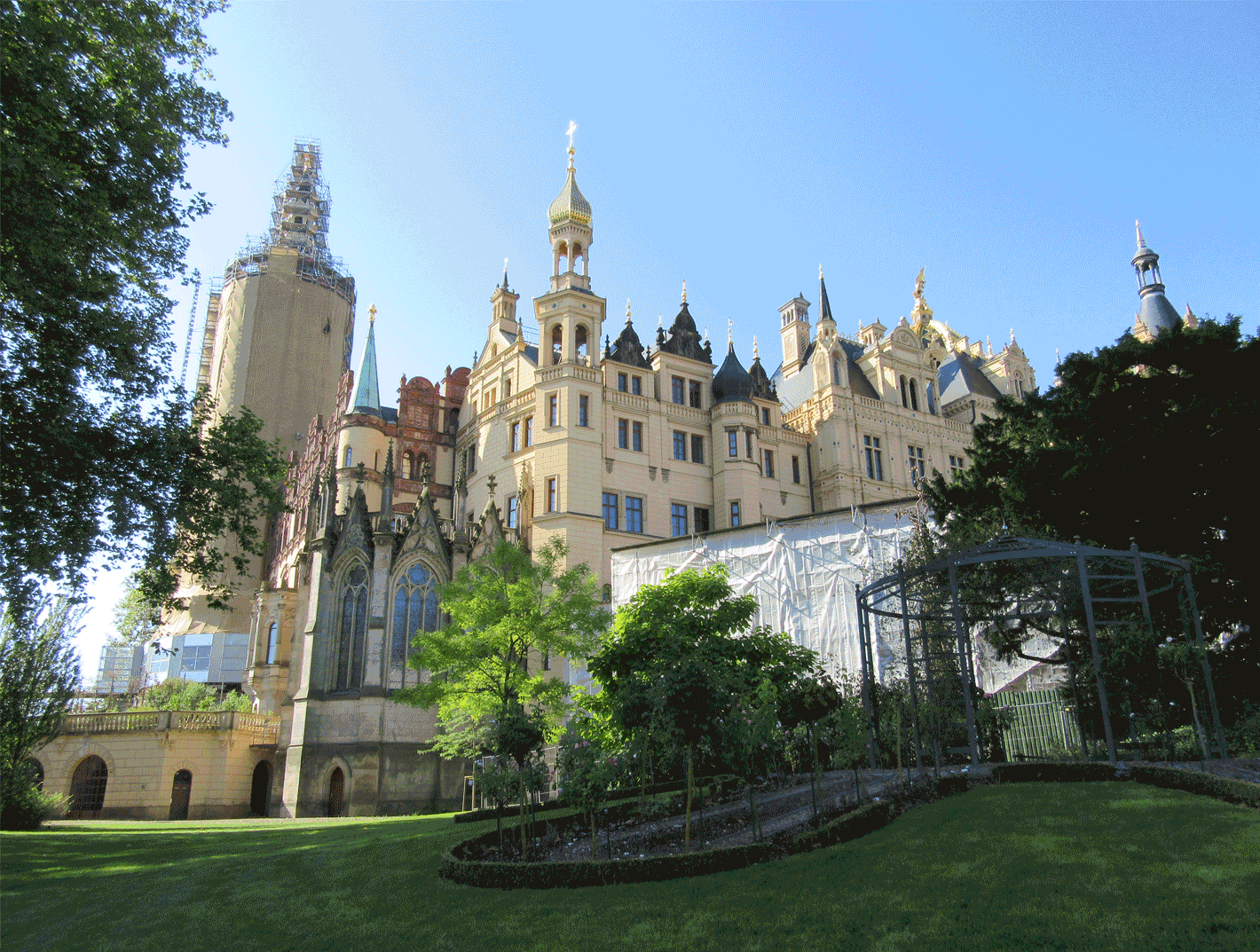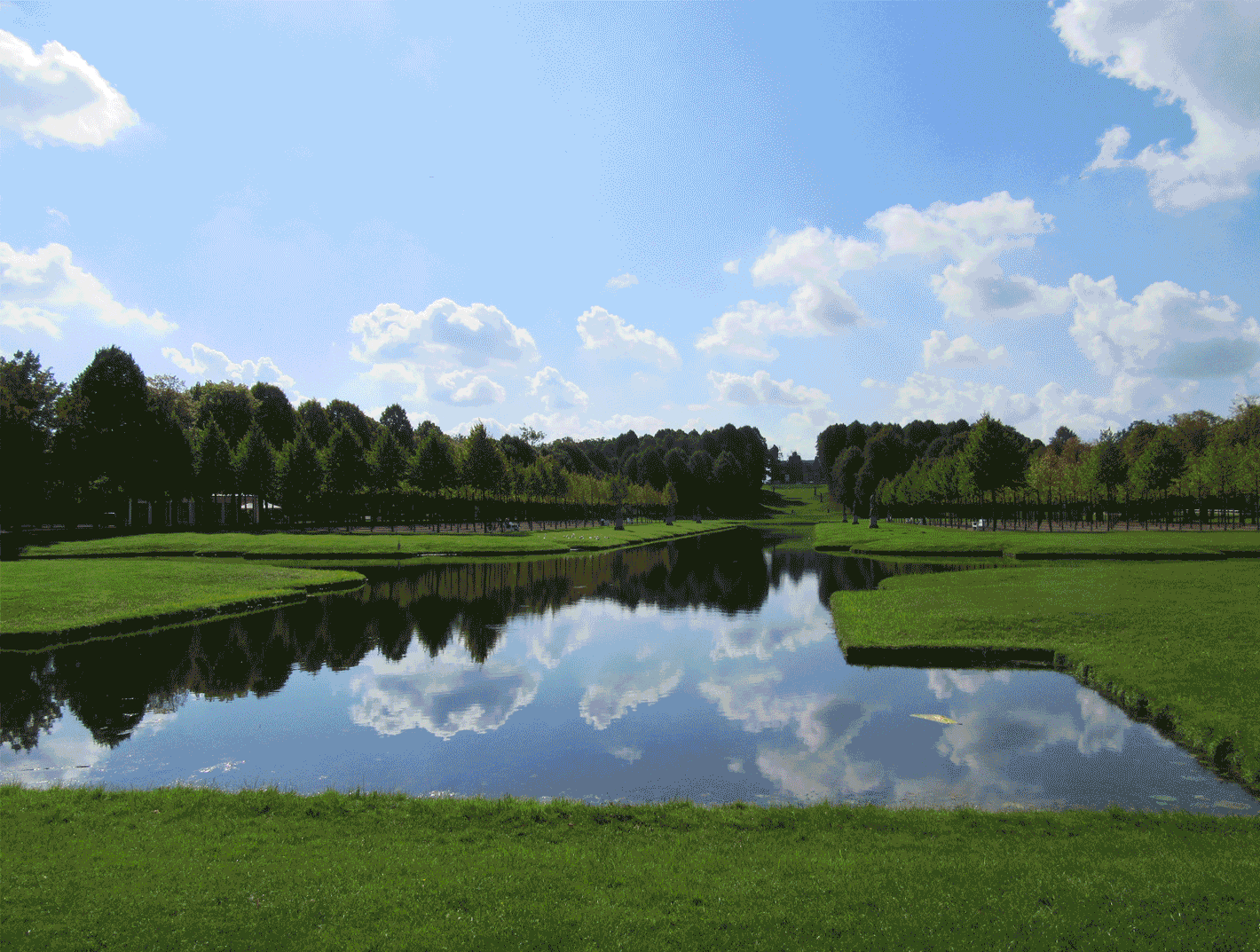 What to Eat
Hamburgers! Just kidding.
Where to Stay
We stayed at Ibis Budget Hamburg City. It's super close to the main train station in Hamburg and it's somewhat close to the legendary Kunsthalle Hamburg art museum and Miniatur Wunderland model railway exhibition.
Transportation
Hamburg is super walkable and bikeable. We took the train in from Frankfurt and took the train out to Berlin. We just got around via foot or a bike tour.
Resources
Map
Click here for the JoYo Germany map.