In general, if you like seafood, you should be eating SEAFOOD in Seattle – all kinds of salmon, oysters, and Dungeness crab! But, if you don't, do not worry, I still have you covered. We have all types of tasty cuisine in Seattle. Items listed in priority order, neighborhood in parentheses, and anything in italics is on my to-do list.
OYSTER BARS
($$$, Ballard, Seafood): Most amazing oyster bar in Seattle. It's a small restaurant, perfect for parties up to 3 and plan ahead or expect a long wait. We ordered the grilled octopus with our oysters and all were fantastic!
($$, Capitol Hill, Lower Queen Anne, Oysters): Want fresh oysters? Simple, down-to-earth bar for no-frills oysters.
($$$, Downtown, Seafood): Great older family and friends fancy white tablecloth seafood restaurant with an excellent view of the Puget Sound. Get the seafood salad that's filled with more seafood than salad!
SEAFOOD
($$, Fremont, Seafood): Fresh, delicious, and great for brunch, one of my favorite restaurants in Seattle.
($$$, Wallingford, New American): Tres cool venue and amazing artwork of whales outside the restaurant. It's high quality small plates and portions. Light and expensive meal. Also a cheaper seafood place with great decor is Ballard Annex Oyster House ($$, Ballard, Seafood).
($$$, Downtown, Seafood): A fancy dining seafood restaurant with a view. I hear the oyster po'boy is what's up.
ITALIAN
($, Pioneer Square, Pasta): Only open weekday lunches, offering small but an exquisite selection of pastas in a small but efficient venue. If I could make it to Pioneer Square for lunch, I would run here everyday. Make sure you get the bread, too!
($$$, Capitol Hill, Pasta): Handmade pasta and get the butter sage pasta. Pricey, classy, handmade pasta establishment.
($$$, Queen Anne, Italian/Mediterreanean): A fine Ethan Stowell establishment only open only for dinner. Ethan doesn't disappoint – with a restaurant name like that, how can you resist?
NEW AMERICAN
($$$, Wallingford, New American): Known for its farm-to-table, Pacific Northwest features, this restaurant is one of the top ones in Seattle. Be prepared for the price tag though and prie fixe.
($$$$, Queen Anne, New American): On my to-do list, known as the best restaurant in Seattle.
ASIAN
($$, Wallingford, Asian Fusion): A gorgeous spot serving Korean/Asian fusion food done very right. Open for dinner everyday and $19 buffet brunch (with a tasty meat entree) on weekends.
($$, Capitol Hill, Malaysian): This is a food stand open for dinner and late nights in Capitol Hill. Get the roti canai and nasi goreng!!!
($$, Central District, Vietnamese): Beautiful, spacious venue with Asian fusion cuisine. Great bar, lunch and dinner options, and even pastries. Asian food for Americans – open till 4am on Fri/Sat. They serve pho, congee, and wings. Or if you just want pho, check out Dong Thap noodles ($, International District, Vietnamese).
($$, Capitol Hill, Japanese Izakaya): This place has a great perennial menu with sashimi, bibimbap bowls (unagi, vegetable), ramen, and chicken wings. I love the kimchi udon. It's seasonal, daily specials menu is what makes this place top-notch. Make sure you try all the new things for the day. Very rich in sauces and excellent drinks.
($$, University District, Taiwanese): Get the spicy shrimp wontons and a plate of the normal soupy pork dumplings. The noodles and rices are pretty good – not great but good. Then get some dessert buns too.
BRUNCH
($$, Ballard, New American, Brunch): Brunch food is amazing. I thought the pork chop was just okay but everything else on the menu is delicious and delightful.
($$, Multiple locations, Brunch): Brunch time (pancakes, omelettes, french toast)! Only go to Portage Bay Cafe in the summer when their berry bar is fresh! Unless you're just feeling some good ole eggs, then go anytime. They have solid pancakes but my favorite pancakes are in Redmond, WA at Family Pancake House.
($$, Capitol Hill, Brunch): Great for small and large brunch parties, their menu includes mimosas, eggs, and waffles. Nearby on the same street, The Wandering Goose ($$, Capitol Hill) does biscuit sandwiches with fried chicken and Coastal Kitchen ($$, Capitol Hill, Seafood) does fresh selection as well. If those guys are crowded, try Americana ($$, Capitol Hill, New American) on Broadway.
SANDWICHES
($$, Belltown, Breakfast sandwich): The BEST breakfast sandwiches EVER on the face of the earth. They're a hefty price tag of ~$7-$8 but it will be the best breakfast sammie ever.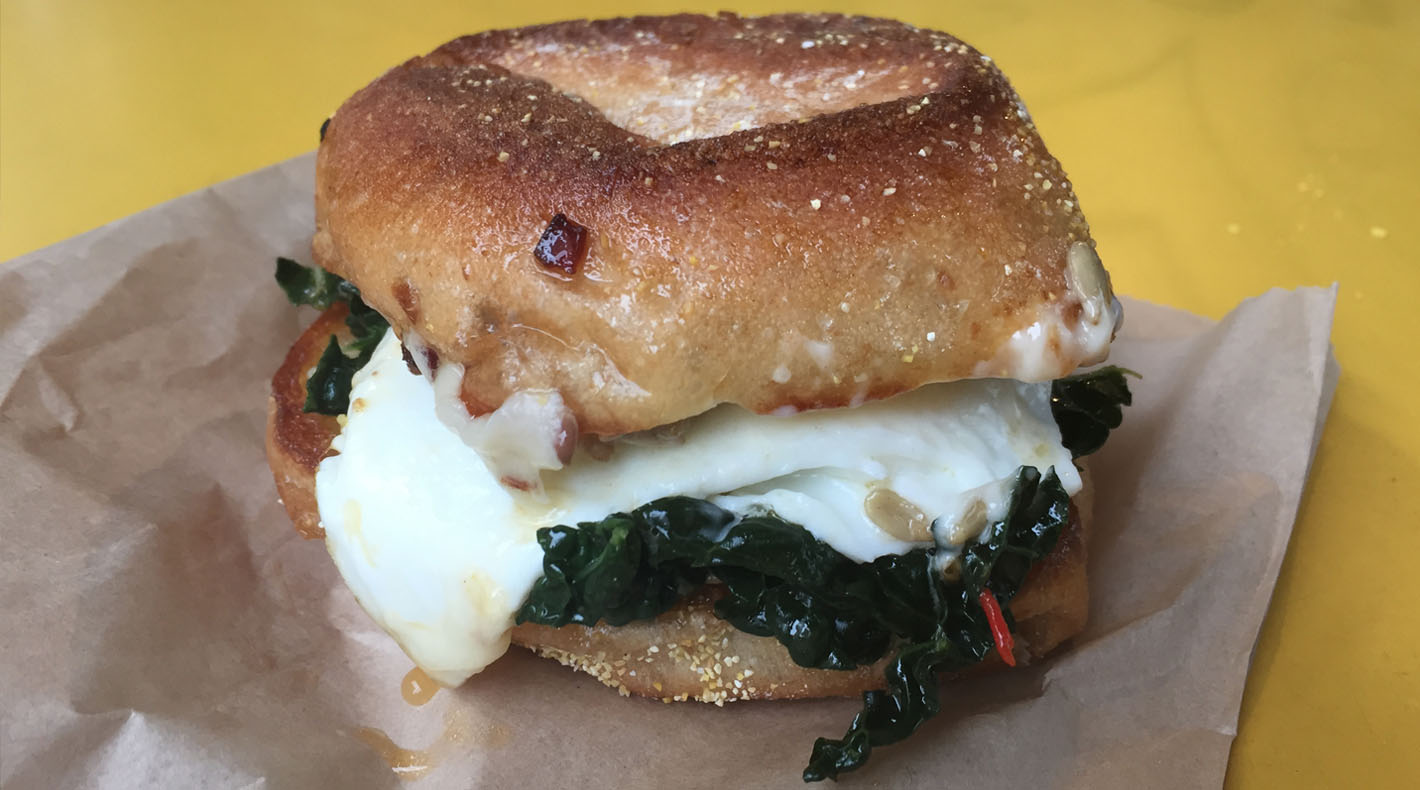 ($, Capitol Hill, Sandwiches): You must get the Farro bread toast (hands down) with or without the egg and a sweet cookie or pie (aka slab).
($, Pioneer Square, Sandwiches): Run by Mario Batali's dad and is only open weekday lunches) Cold cuts, hot sandwiches, and salami done right. This lunchtime-only, weekday-only joint. And if not Salumi, then Rain Shadow Meats in Pioneer Square because they're amazing and delicious too. Or, try the hidden gem that is Hitchcock Deli in Georgetown.
($$, Multiple locations, Sandwiches): Delicious, fresh, sustainable sandwiches. Great fresh bread as well. I like the pastrami but all are good. Skip the breakfast sandwiches.
PIZZA
($$, Multiple locations, Pizza): Any pizza or calzone but I highly recommend the house special (Specialita' Della Casa) called Via Tribunali or you can try the one with clams.
($$, Ballard, Pizza): They have a kick-ass charcuterie plate, great pizza, and pretty good entrees. Beautiful, spacious venue but cell reception doesn't work – free wi-fi though. Love this place.
($$, Multiple locations, Pizza) also has a pizza with the clams that is incredible.
($$, Beacon Hill, Pizza): You'll need a car if you're in Seattle proper to reach this amazingly tasty Italian restaurant and pizzeria. The bar is great and everything is crazy fresh, crazy affordable, and stunning.
HAWAIIAN
($$, West Seattle, Fried Chicken/Hawaiian): There is only a couple reasons to go to West Seattle, one of which is for a fried chicken trip to Ma'ono. Amazingly well-seasoned and fresh, it doesn't get more special with a Hawaiian flare than this.
($, West Seattle, Hawaiian/Korean): Quick fast street food with an excellent view of Seattle – you must get the super amazing kimchi fried rice with your choice of protein. Their kalbi beef, spicy pork, or miso ginger chicken tacos are excellent! Or try sliders, fish-and-chips, mac salad, or a katsu sandwich. Don't forget shaved ice! Take the $5.25 water taxi to West Seattle – puts you right at Ma Kai.
($, Multiple locations, Bagels): I know you're not in NYC but you're in Seattle so you should get fresh salmon/lox cream cheese! Bagels of every kind here like cinnamon chip, snickerdoodle, pumpernickel everything – if you can think of it, they sell it!
EXTRA CREDIT
Feeling French food? Try Le Pichet ($$, Downtown, French) for a cute little traditional French bistro and bar that has simple recipes with high quality ingredients. It's cheaper sister restaurant Cafe Presse ($, Capitol Hill, French) is just as tasty, very casual, affordable, and open till 2AM.

MAP
All listings available on the JoYo Seattle Map.
15 total views, 5 views today